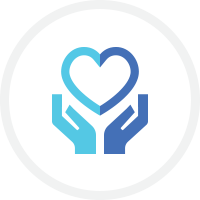 Review the current
guidelines of care for SMA
At Biogen, we are committed to supporting those with spinal muscular atrophy and their care team. Our hope for Together in SMA is that by providing educational materials and resources, we can help those who take on the challenges of SMA.
Together in SMA was created in support of that unity, and with the goal of becoming a valued tool for members of the team. Here you'll find clinical information and care strategies that some people use to help manage the disease.
Biogen is building on our legacy of rare disease research and development to explore potential treatment options. And even then, we'll still be together in SMA.
The people featured on this website are part of Together in SMA, which is sponsored by Biogen.
Biogen compensates these contributors for their time and the content they provide.
Biogen-57471. Date of preparation - May 2020