Clinical presentation for spinal muscular atrophy may differ according to the age of onset and severity, but hypotonia (floppy baby syndrome) and/or muscle weakness and atrophy are common signs or symptoms2,3:

Weakness is usually symmetrical
Weakness is more proximal than distal
Sensation is preserved

Tendon reflexes are absent or diminished
Weakness is greater in the legs than the arms
Severity of weakness generally correlates with the age of onset
Characteristics of spinal muscular atrophy
Click through the tabs to see additional details about each type.
Note: You may see these characteristics of spinal muscular atrophy more commonly grouped by "Type" (I-V) in internet articles or clinical research.
The natural progression of SMA involves irreversible loss of motor function*27
Following an initial increase, a peak in motor skills and subsequent downturn marks the onset of SMA, with disease progression (and loss of motor skills) being most rapid in the early stage27:
An illustration of the range of function across the spectrum of SMA*27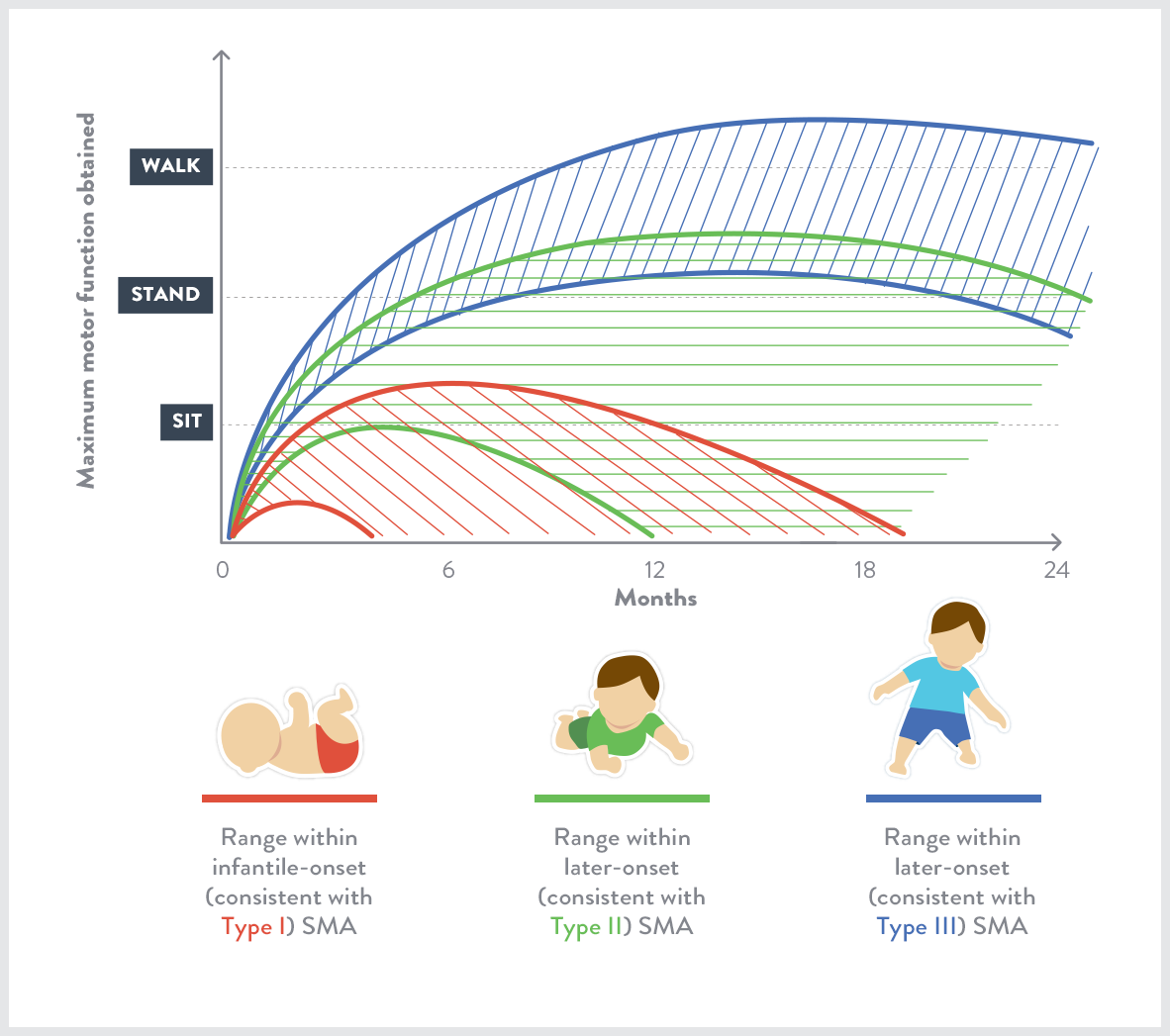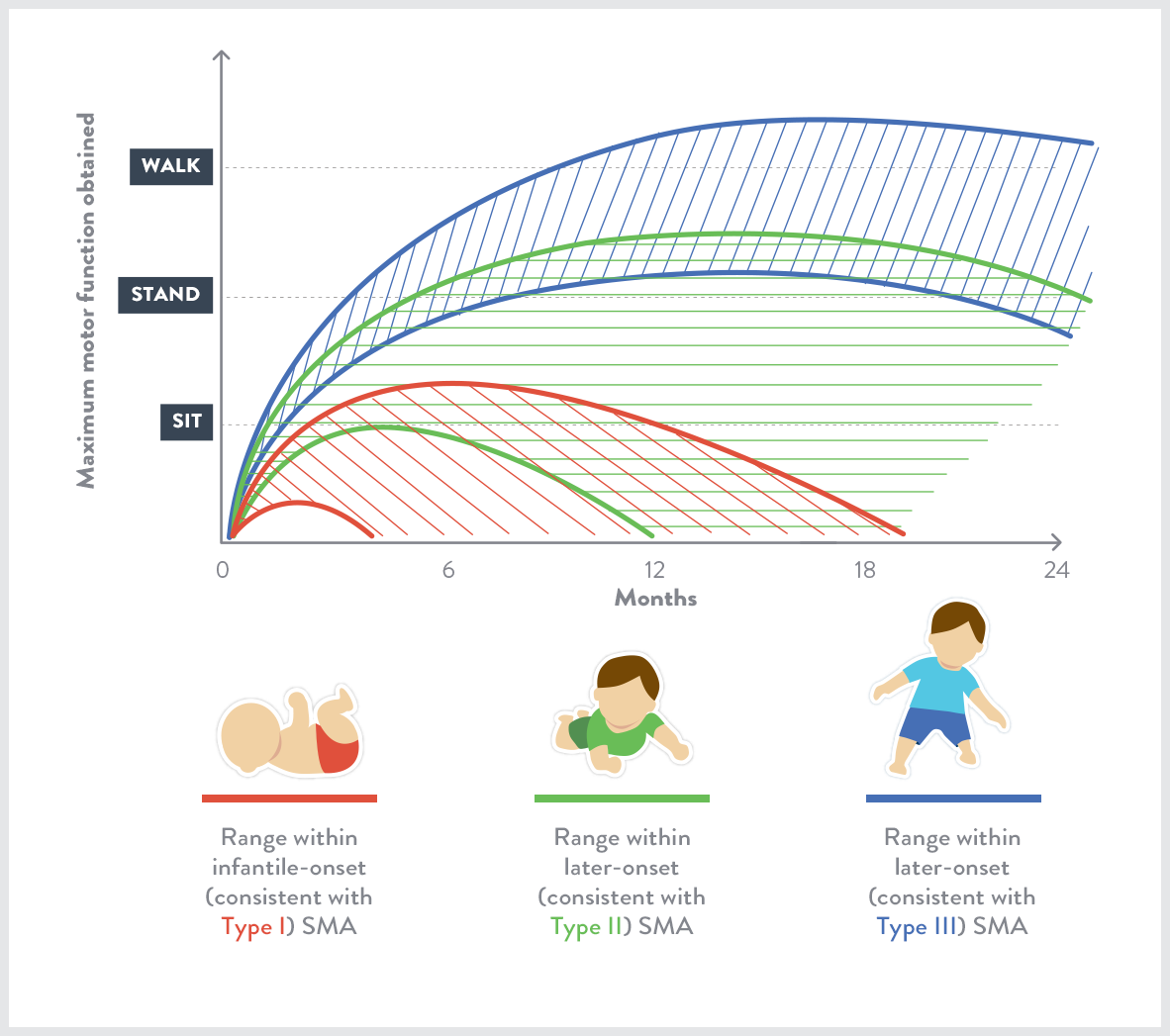 A number of motor function scales have been developed that are useful for quantifying the natural history of spinal muscular atrophy, as well as response to investigational therapeutic agents in clinical trials.11-13
* This is a graphical approximation, divided by group subtypes, of what natural history studies tell us about the evolution of patients with SMA.
The Children's Hospital of Philadelphia Infant Test of Neuromuscular Disorders (CHOP INTEND) is used to evaluate the motor skills of infants with spinal muscular atrophy11,14:
Includes 16 items used to assess motor skills and usually used for patients with very limited motor skills (e.g. not able to sit, poor head control)
Each item is graded on a scale of 0-4, where 0 represents no response to a particular test, and 4 represents a complete response
Total score ranges from 0 to 64 and declines by ~1.3 points per year on average33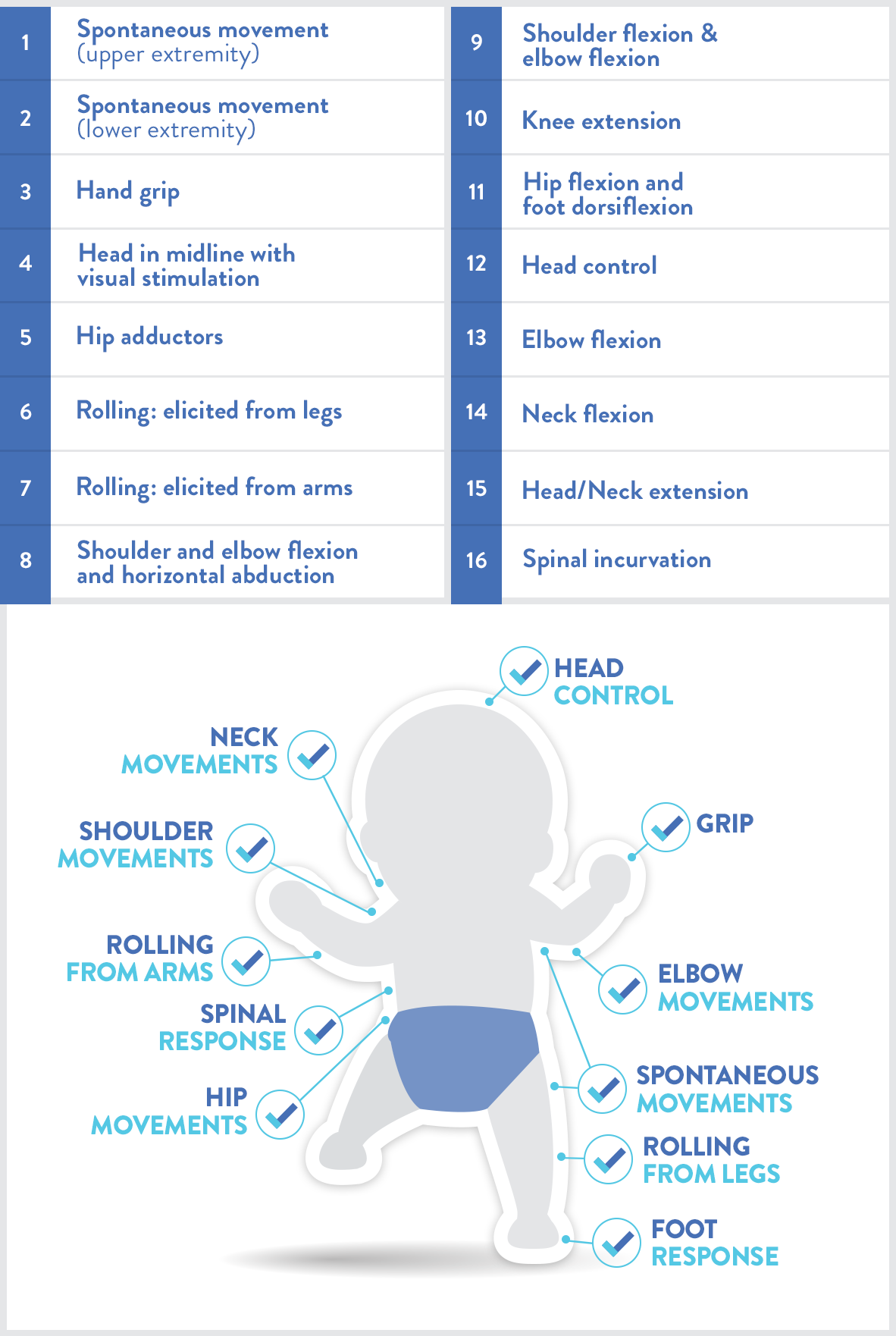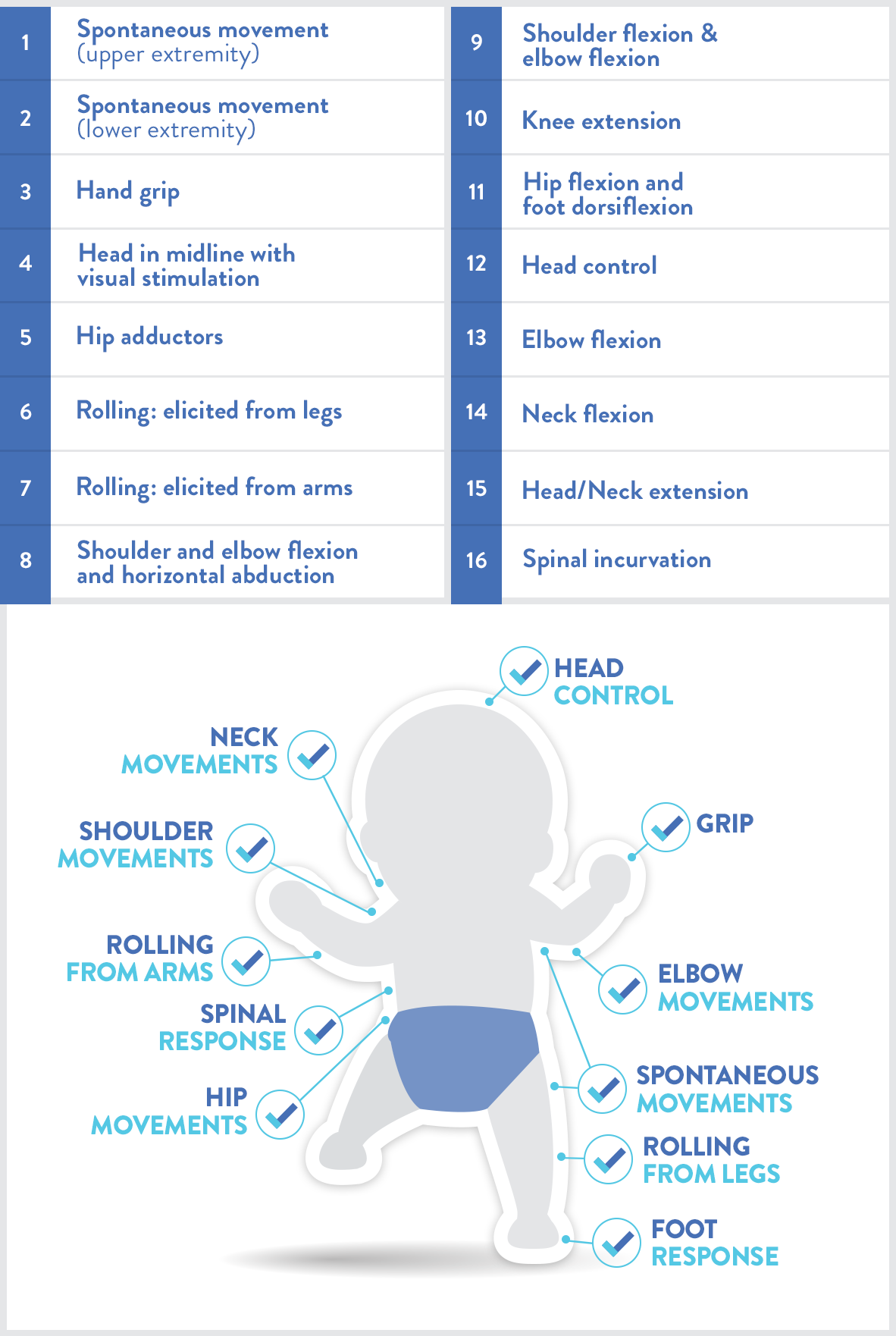 The Hammersmith Infant Neurological Examination (HINE) is a motor function assessment tool designed to be a simple method for evaluating motor skills in infants from 2 months to 2 years of age12,15:
Exam includes 26 items that provide a comprehensive assessment of an infant's neuromuscular development
—Each item is scored from 0 to 3, with a total possible score of 78
The motor milestones portion of the HINE includes 8 items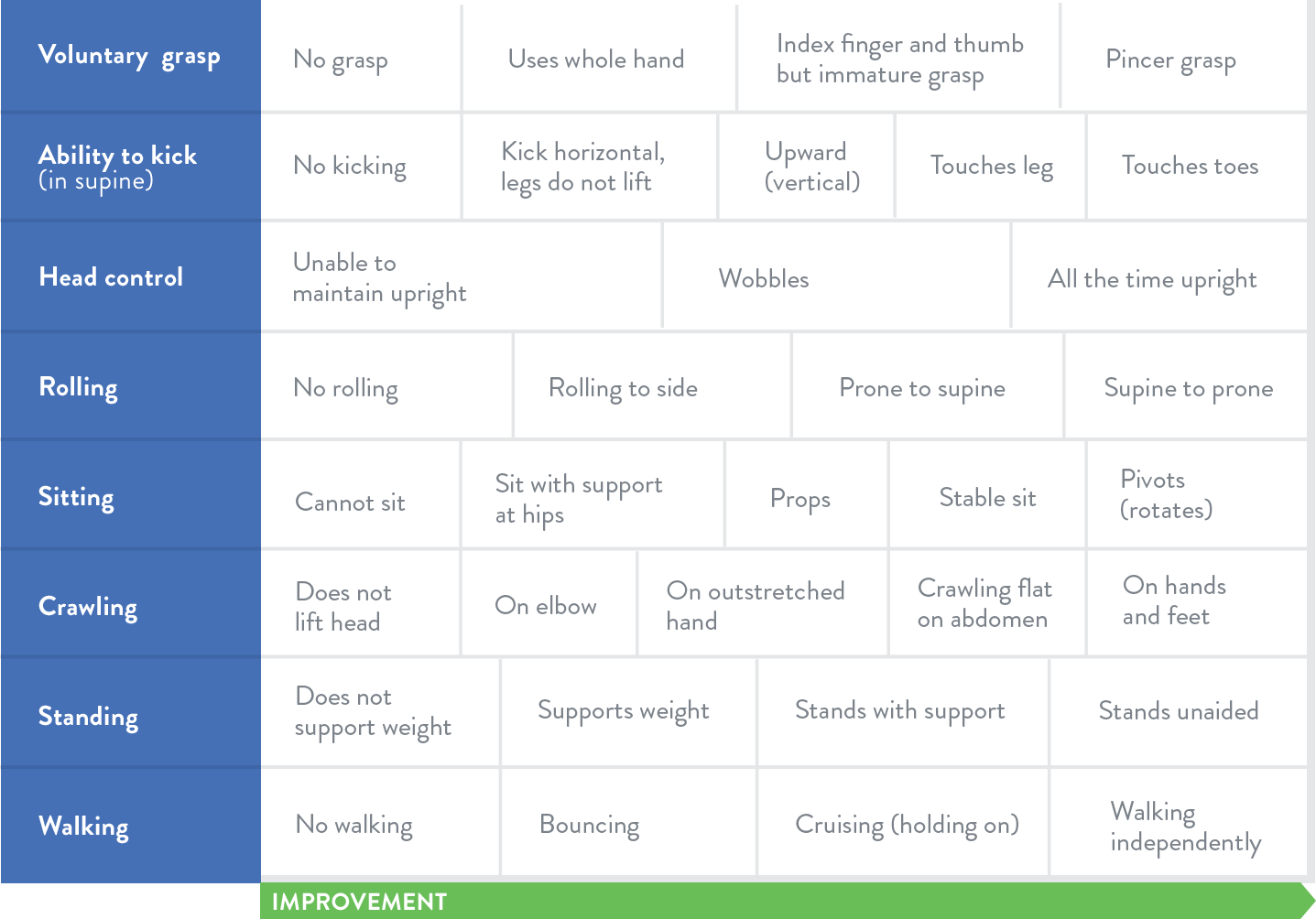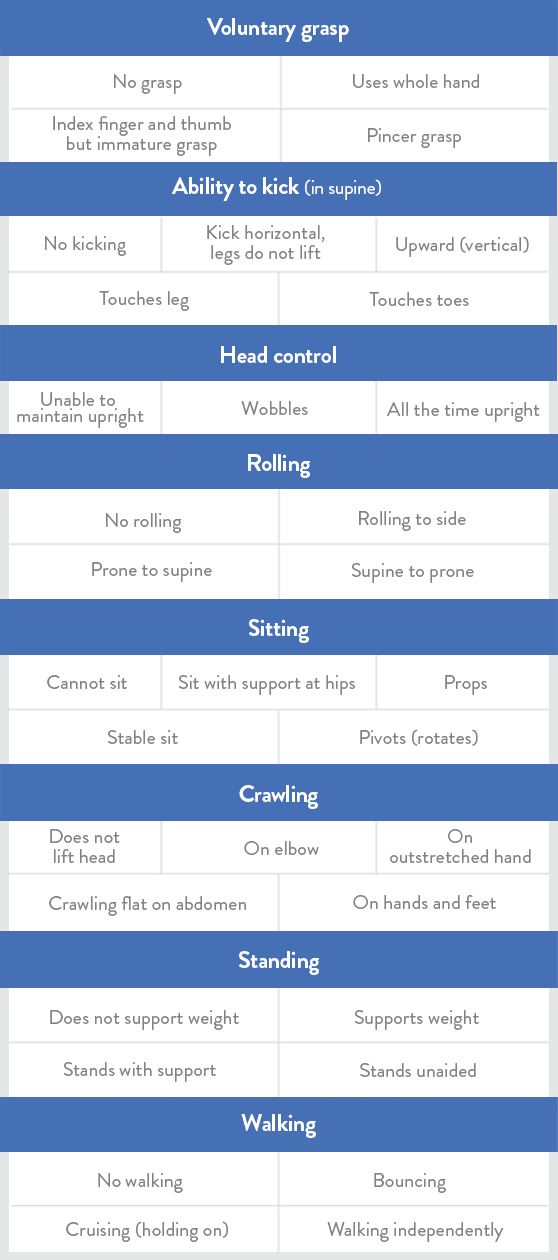 The Hammersmith Functional Motor Scale—Expanded (HFMSE) is a validated measure that has been used in several clinical trials to evaluate the motor function of children with spinal muscular atrophy. The HFMSE adds 13 clinically relevant items from the Gross Motor Function Measure (GMFM) related to lying/rolling, crawling, crawling/kneeling, standing, and walking/running/jumping13,16:
Exam has 33 items that are scored on a scale of 0-2
Total score ranges from 0 to 66, with lower scores indicating poorer motor function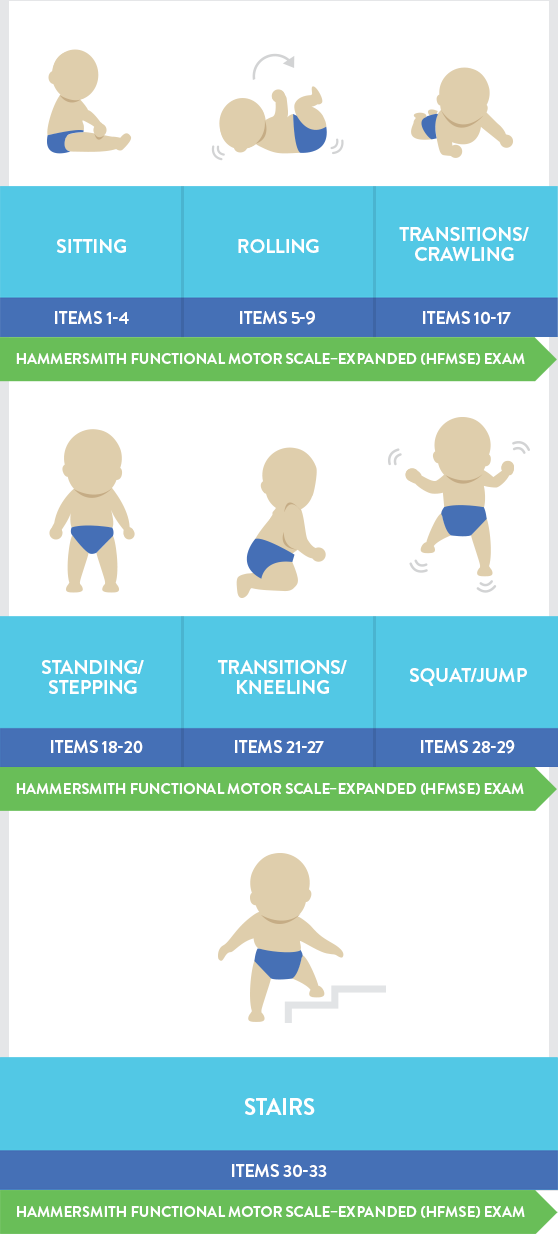 CHOP INTEND: Used to assess type 1 patients11
For those with very limited motor skills (e.g. not able to sit, poor head control)
Total score ranges from 0 to 64 and declines by ~1.3 points per year on average33
In spinal muscular atrophy, electrophysiologic measurements may be used to assess the health of motor neurons17
Compound muscle action potential (CMAP) response is a measure of the electrophysiologic output from a specific muscle or muscle group following stimulation of a peripheral nerve18
Motor unit number estimation (MUNE) is a method that estimates the number of motor units supplying a specific muscle. MUNE values are calculated from the ratio of the maximal CMAP to the average single motor neuron potential (SMUP)

SMUP is measured by moving a stimulating electrode along a motor nerve at multiple points19
CMAP may decrease rapidly in some individuals with spinal muscular atrophy17
Reductions in CMAP are associated with the onset of symptoms in individuals with infantile-onset (Type I) spinal muscular atrophy17
How does the basic function and progression of a child with SMA determine daily activities and lifestyle?
Learn more